HuffPost: Thanksgiving 'National Day of Mourning' for Native Americans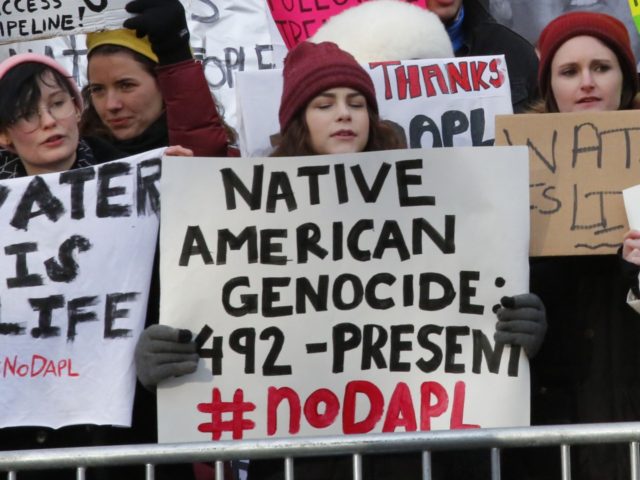 HuffPost has published a helpful Thanksgiving guide, "6 Things Every Non-Native Should Do On Thanksgiving," after asking "Indigenous educators and activists to share what non-Natives need to know to be a good ally."
One of the lessons non-Natives need to understand, HuffPost explains, is that Thanksgiving is a "National Day of Mourning" for Native Americans because of "the subsequent, nation-wide racial genocide that occurred between the settlers and the tribes whose territories they encroached on, and ongoing assaults on Native culture and religion."
Other things to know, or do, include:
Play Video
CLICK TO PLAY
Rees-Mogg: If U.K. Parliament Isn't Scared of Being Replaced by Brexit Party, 'They Should Be'
"The pilgrims could only settle at Plymouth because thousands of Native Americans, including Wampanoags, had been killed by disease brought by earlier European ships settlers." (The Boston metropolitan area is home to nearly 5 million people today.)
HuffPost advises parents to challenge the "Eurocentric" curriculum at their children's schools, in favor of a "more inclusive, truthful curriculum." One could, for example, object to "stereotypical costume activities in the classroom" such as children playing the roles of Pilgrims and Indians in Thanksgiving plays.
HuffPost suggests donating to a Native American charity, because it's "not entirely true" that federal funding and successful casino enterprises provide enough resources for Native communities' basic needs.
HuffPost urges readers to take action on climate change and environmental protection, because "when the environment is encroached on, it hurts them [Native Americans] the most."
HuffPost cautions, however, that non-Natives should not abuse their new knowledge or involvement to speak or act on behalf Native communities: "[T]he goal is to amplify the voices of the community you support, not shout over them and drown them out."
Joel B. Pollak is Senior Editor-at-Large at Breitbart News. He earned an A.B. in Social Studies and Environmental Science and Public Policy from Harvard College, and a J.D. from Harvard Law School. He is a winner of the 2018 Robert Novak Journalism Alumni Fellowship. He is also the co-author of How Trump Won: The Inside Story of a Revolution, which is available from Regnery. Follow him on Twitter at @joelpollak.
"Forget The KKK, Modern-Day Liberals Are The Biggest Impediment": Clarence Thomas Reflects On Biden Experience
Supreme Court Justice Clarence Thomas says that modern day liberals posed the biggest impediment to his career, as opposed to what he was taught to believe.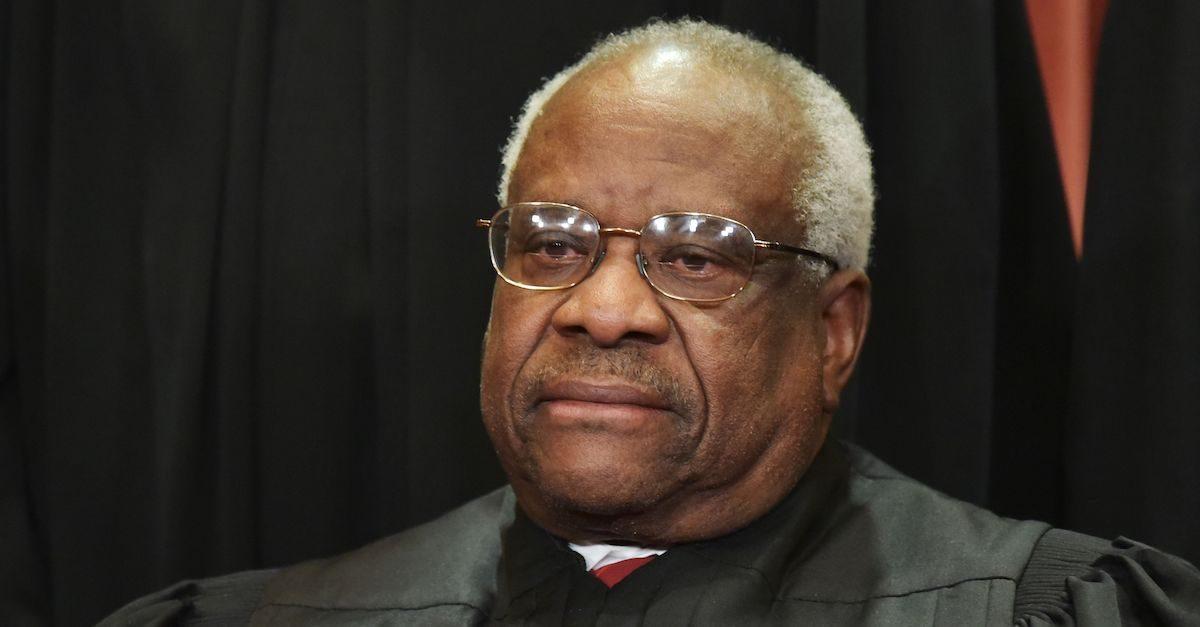 "I felt as though in my life I had been looking at the wrong people as the people who would be problematic toward me. We were told that, 'Oh, it's gonna be the bigot in the pickup truck; it's gonna be the Klansmen; it's gonna be the rural sheriff," Thomas says in a forthcoming documentary, "Created Equal: Clarence Thomas in His Own Words."
"But it turned out that through all of that, ultimately the biggest impediment was the modern day liberal," he added. "They were the ones who would discount all those things because they have one issue or because they have the power to caricature you," according to ABC News.
Thomas has joined public criticism of former Vice President and 2020 Democratic candidate Joe Biden, whose handling of Thomas's 1991 Supreme Court hearings when he was a Senator has fallen under harsh scrutiny.
Thomas sat for more than 22 hours of interviews over a six-month period in 2018, according to the film's publicist. Manifold has advertised the movie as a chance to "tell the Clarence Thomas story truly and fully, without cover-ups or distortions."

The movie also casts a spotlight on Biden, who has faced renewed criticism from his fellow Democrats for his treatment of Anita Hill, an African-American law professor who had accused Thomas of sexual harassment and testified publicly before the committee during the 1991 hearings. Biden called Hill to apologize earlier this year for his handling of the case. –ABC News
Thomas denied Hill's allegations, which he referred to during the Biden-led hearings as a "high-tech lynching."
"Do I have like stupid written on the back of my shirt? I mean, come on. We know what this is all about," Thomas says in the documentary.
"People should just tell the truth: 'This is the wrong black guy; he has to be destroyed.' Just say it. Then now we're at least honest with each other. The idea was to get rid of me. And then, after I was there, it was to undermine me."
While Thomas does not mention Biden by name, he is asked by filmmakers to respond directly to Biden's line of questioning during the hearings on his views of natural law.

"I have no idea what he was talking about," Thomas says of Biden.

"I understood what he was trying to do. I didn't really appreciate it," he added. "Natural law was nothing more than a way of tricking me into talking about abortion." –ABC News
In response to the documentary, Biden's deputy communications director Bill Russo said in a statement to ABC: "Then-Senator Biden voted against Clarence Thomas in the Senate Judiciary Committee, he argued against him on the Senate floor, and he voted against his confirmation to a lifetime seat on the Supreme Court. It is no surprise that Justice Thomas does not have a positive view of him."
Thomas was eventually confirmed in the Senate by a slim margin of 52 to 48 on Oct. 15, 1991.
"Most of my opponents on the judiciary committee cared about only one thing," Thomas says in the film. "How would I rule on abortion rights. You really didn't matter and your life didn't matter. What mattered is what they wanted and what they wanted was this particular issue."
Thomas speaks at length about his journey from childhood in impoverished rural Georgia, to a stint in a Roman Catholic seminary, and on to the elite classrooms of Holy Cross and Yale. He describes his grandfather, a fuel oil deliveryman in Savannah, as one of the biggest influences on his life, teaching him determination and self-reliance.

Thomas says those values are what sustain him in the face of persistent criticism as a black conservative.

"There's different sets of rules for different people," he says. "If you criticize a black person who's more liberal, you're a racist. Whereas you can do whatever to me, or to now (HUD Secretary) Ben Carson, and that's fine, because you're not really black because you're not doing what we expect black people to do." –ABC News
The documentary is set for theatrical release in early 2020 and will air on PBS next spring.
Where to go if the S&P 500 Repeats History?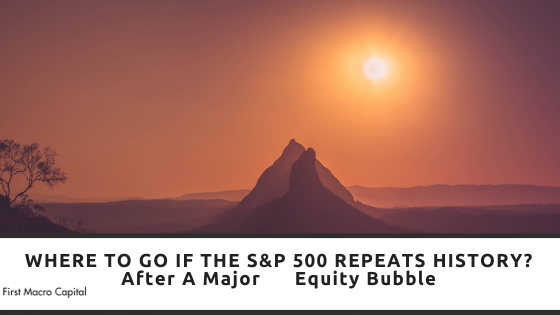 While many are wondering how high the S&P 500 will go. When looking to past decades what happened when all the market's attention is primarily focused on one equity geography over others? After every major equity bubble, the Nikkei in the 80's, then Europe in the 90's, followed by Emerging Markets in the 00's, each of these equity markets has yet to recover from their peaks. Now to today, is the S&P 500 setting up to repeat? Big Tech is more than 20% of the S&P 500 and the Nasdaq 100. If investors are going to be selling the S&P 500, which is primarily big tech stocks, investors need to buy something else, but what is it?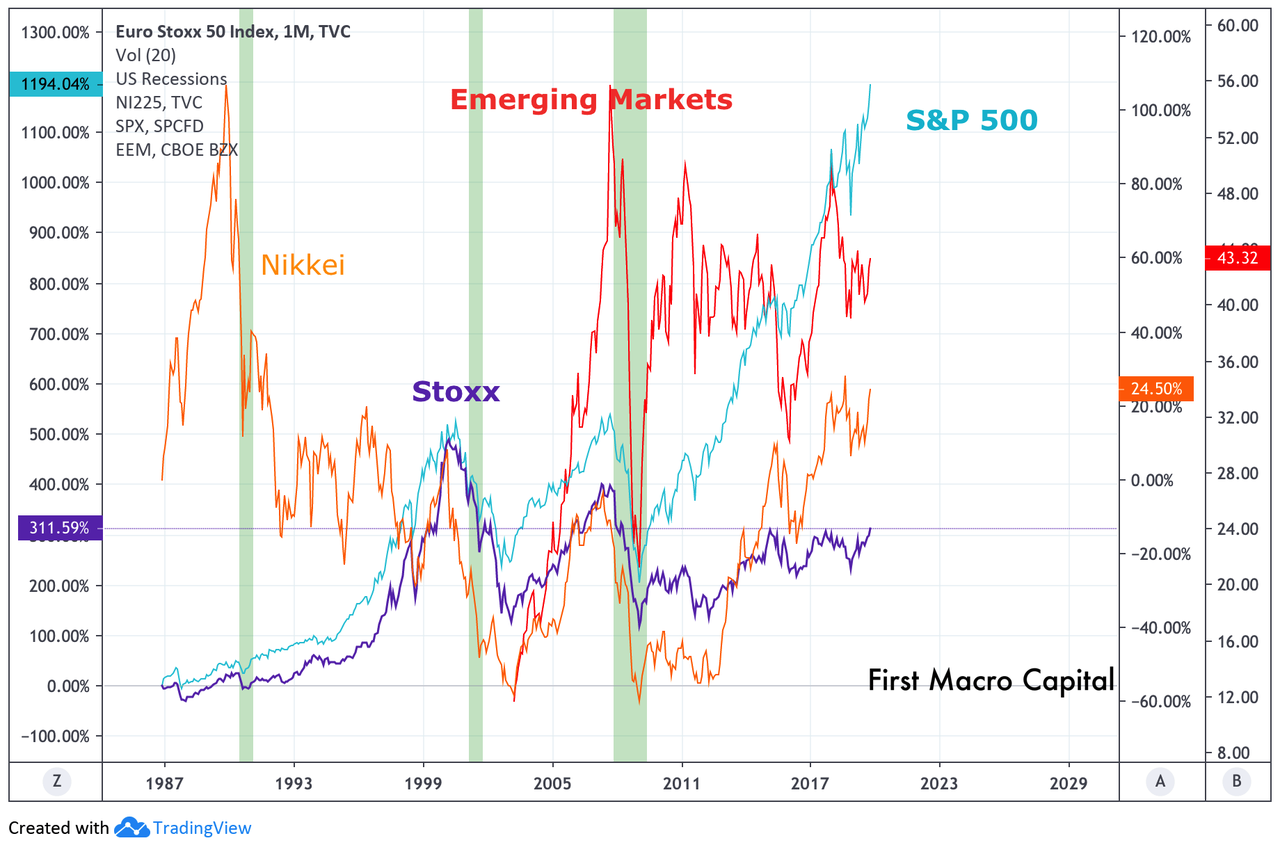 What would indicate a slowdown in the U.S is coming? A slowdown in Core CAPEX orders on a YoY basis is highlighting the peak in the S&P 500 is near, with 2019-Q4 GDP approaching zero.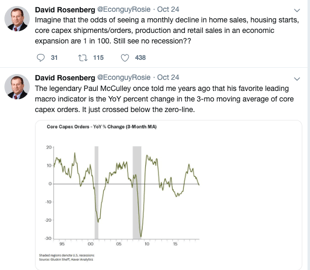 US DOLLAR CYCLE
This all coincides a top in the US dollar.

WHERE IS THE GROWING GOING TO COME FROM?
During the last commodity cycle, the S&P 500 was essentially flat from 2001-2008 and was down even further when you adjust for a fall in the US Dollar Trade Weighted Index that fell from 130 to below 100 during that time.
If money flows out of the U.S. as we finish this cycle and enter the next cycle, where will the money go? First off, it's to the emerging market countries that are expected to power ahead the world growth over the next 4-5.
As we can see here, the US accounted for 13.8% of the world's growth in 2019, with expectations it will be 9.2% of the growth in 2024.
This is not good for the US Dollar and US Equities.
It is good for commodities countries within emerging markets will surprise investors to the upside because of the rotation into commodities during this time period, like Brazil and Russia.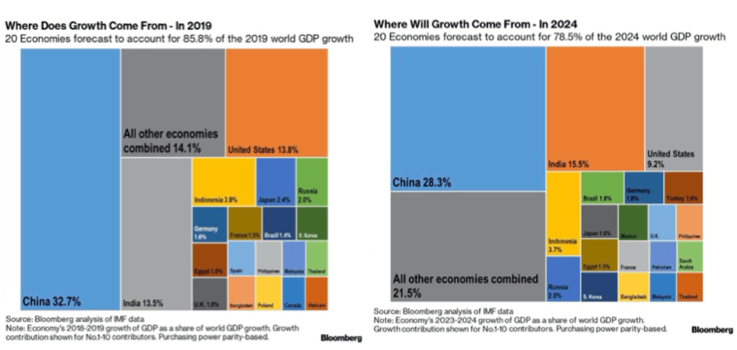 LOOK TO COMMODITY COUNTRIES IN EMERGING MARKET
In U.S. Dollar terms, Brazil and Russia have outperformed the S&P 500 since 2016, and we think they are only getting started. Why? Their economies are heavily weighted to commodities and will benefit from an accelerating commodity cycle.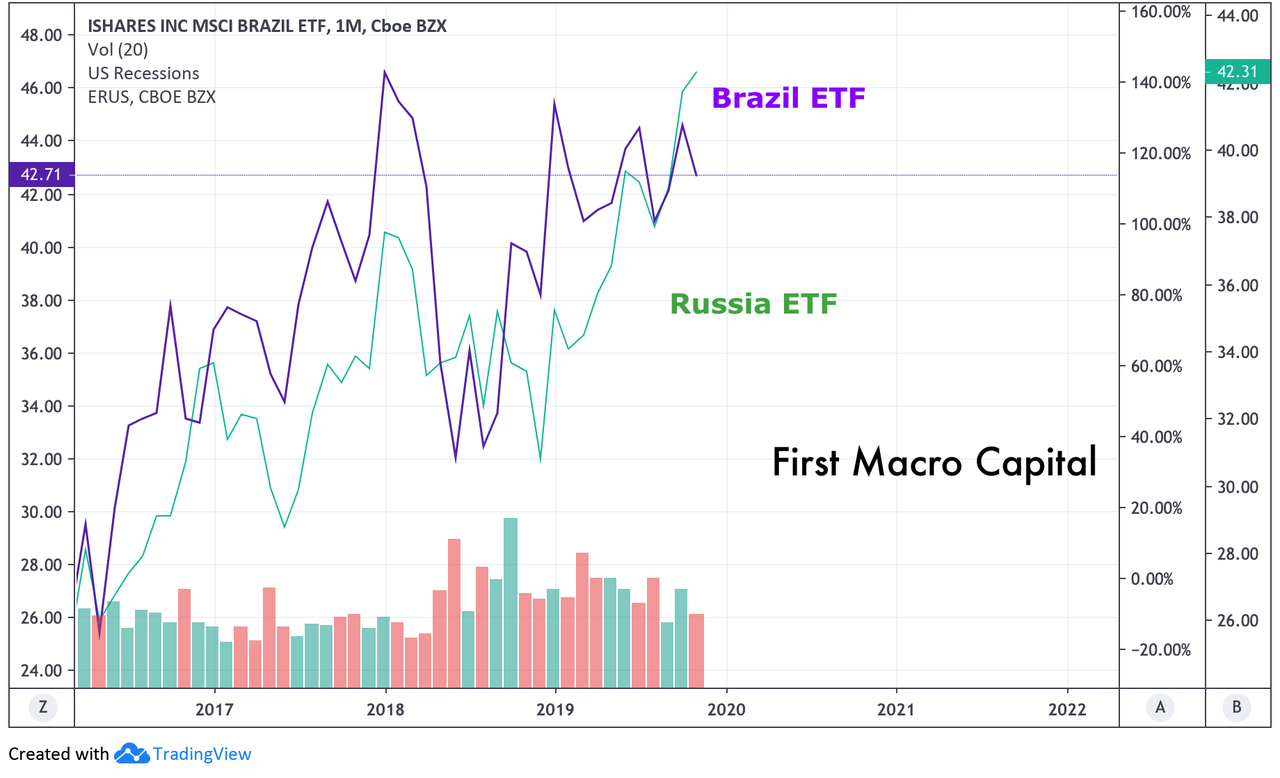 Could we see this again?
Even the legendary investor, Warren Buffet was willing to invest in emerging markets during the last cycle.
Brazil was both the emerging market and a commodity country exposure.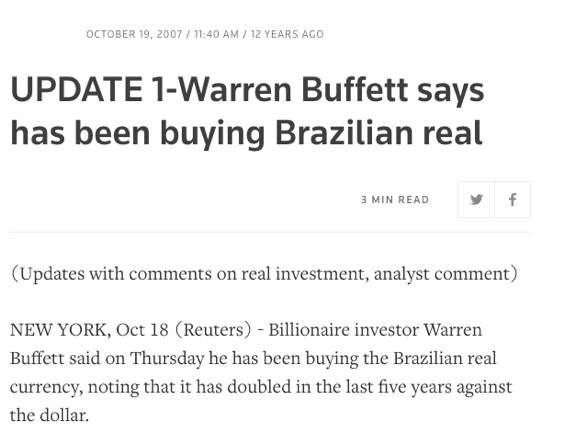 EMERGING MARKETS ARE AT A GENERATIONAL OPPORTUNITY 
Emerging market stocks are back to their 2003 lows relative to the S&P 500. Emerging markets in dollars terms continues to set higher lows since 2002 after being in a decade of sideways trading, a breakout is potentially coming in 2020. We will let it show us the way to avoid any near-term value trap.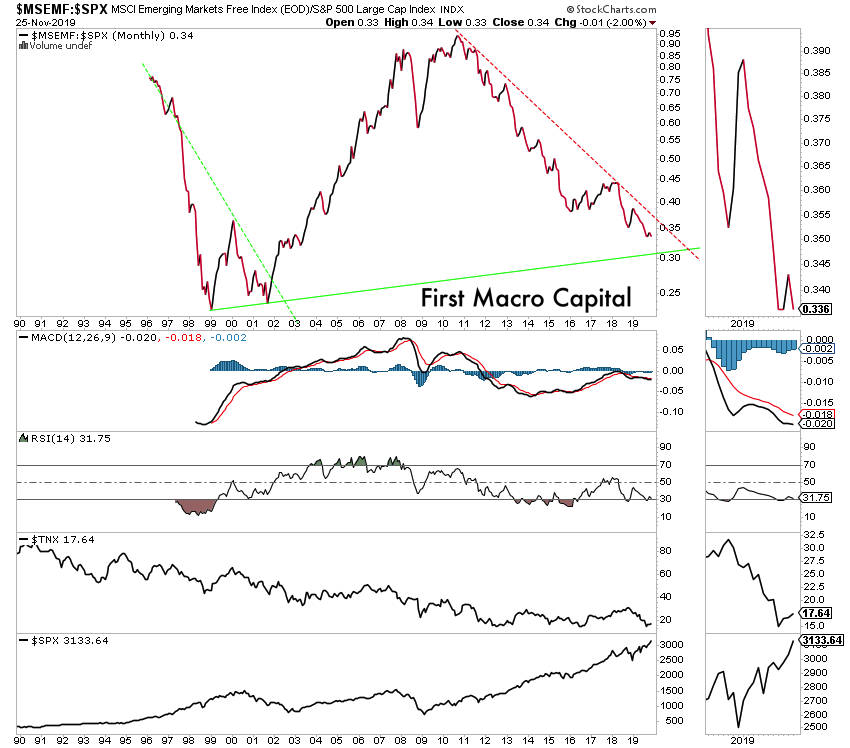 Let's be clear
A blow-off top in the US stocks is 100% possible. We are in it, which we let our clients know back in May 2019 that a blowoff top was possible.
The US equity bubble ending will and a weaker US dollar and will be the catalysts for non-US dollar assets like emerging markets and commodities.
There is a greater upside to emerging markets and commodities.
If you don't look at commodities and emerging markets now, because you don't understand. It will be at least another 20 years BEFORE you have the risk:rewards set up for a once in a generation opportunity.
The S&P 500 will be the market to avoid in the 2020s, if history repeats, like past equity cycles.
Paul Farrugia, BCom. Paul is the President & CEO of First Macro Capital. He helps his clients take advantage of cycle opportunities across all sectors and asset classes, for the long-term. He provides a checklist to find winning gold and silver mining producer stocks, to take advantage of the commodity cycle.
London Bridge Killer Was Released From Prison Early On Prior Terrorism Charge
Update: According to The Telegraph, London Bridge attacker Usman Khan, 28, was a convicted terrorist who was released from prison in December 2018 – less than seven years into a 16-year sentence for a plot to bomb the London Stock Exchange.
He was also a student and personal friend of notorious Islamist hate preacher, Anjem Choudary, whose private cell phone number was stored in Khan's phone at the time of his initial arrest.
Khan was one of a series of Al-Muhajiroun connected terrorists to be released over a six-month period beginning in the Autumn of 2018.  He was known to have attended a series of Al-Muhajiroun protests and street stalls in the Midlands area prior to his arrest.

Before his conviction for the LSE terror plot,  police had previously raided his home in Tunstall over concerns about his links to Choudary. –The Telegraph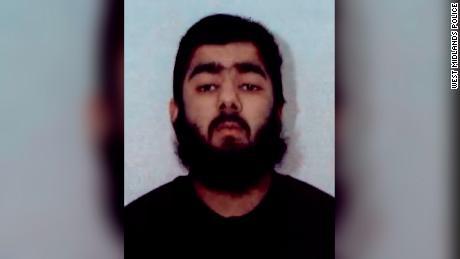 "All these years later, and Anjem Choudary's one-time acolytes are still butchering members of the public on our streets," said terrorism expert, Dr. Paul Stott.
"Usman Khan was a loyal and integral member of Choudary's inner-circle and we know him to have been highly regarded by Choudary."
Khan — a British citizen born in the UK and of Pakistani origin — left school with no qualifications after spending part of his late teens in Pakistan, where he lived with his mother when she became ill.​ On his return to the UK, he started preaching extremism on the internet and attracted a significant following.

In January 2012, Khan pleaded guilty to engaging in conduct in preparation for acts of terrorism contrary to section 5(1) of the UK's Terrorism Act 2006. Khan was among nine men charged with conspiracy to bomb high-profile London targets in the run-up to Christmas in 2010. At the time, the men were described as an Al Qaeda-inspired group that wanted to send mail bombs to various targets and launch a "Mumbai-style" atrocity. At the time of his arrest, Khan lived in Stoke-on-Trent, a city in central England. –Dawn
Meanwhile, The Mirror reports that the tusk-wielding hero who helped stop the attack using a 5′ Narwhal Tusk he grabbed off a wall is a Polish chef named only as Lukasz, who immigrated to the UK.
The man armed with a Narwhal tusk who helped to stop the terrorist attack yesterday on London bridge was a Polish chef called Łukasz, reports @thetimes
606 people are talking about this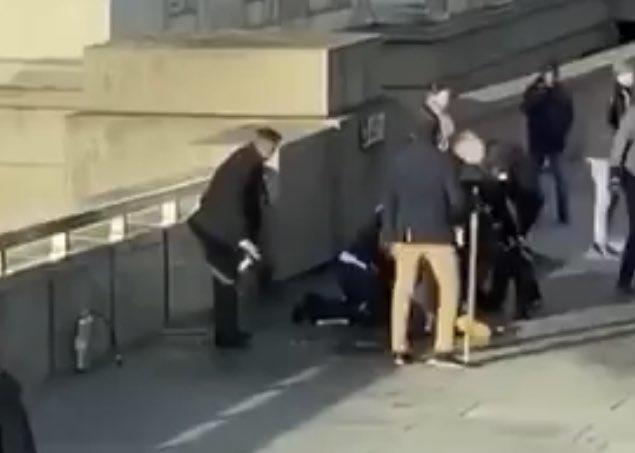 According to friends, he was working at Fishmongers' Hall when Khan, 28, began attacking attendees at a University of Cambridge conference on prisoner rehabilitation. Kahn, who was wearing a fake suicide vest, killed two and injured three – including Lukasz.
"Everybody run! There's a terrorist on the bridge!"

Lukasz: Get me the tusk
234 people are talking about this
Khan was killed by the police.
On Saturday the Queen praised the "brave individuals who put their own lives at risk to selflessly help and protect others."
Prime Minister Boris Johnson, meanwhile, has pledged to bolster prison sentences for criminals who commit serious and violent offenses, and that people convicted of terrorism should not be allowed out of prison early.
"It's clear to me this guy was out—he served half of his sentence, he was out on automatic, early release—and I have long said that this system isn't working" said Johnson, standing near the scene of the incident.
"It does not make sense for us as a society to put terrorists, people convicted of terrorist offenses, out on early release. We argue that people should, that terrorists serve the term of their sentence. That's my immediate takeaway from this and why we're working on increasing the sentences for serious, violent offenders," he added. "I think that the practice of automatic, early release where you cut a sentence in half and let really serious, violent offenders out early simply isn't working, and you've some very good evidence of how that isn't working, I am afraid, with this case."
***
A quick-thinking bystander who was inside London's Fishmonger's Hall when a deadly terrorist attack began grabbed a 5′ narwhal tusk off the wall and helped subdue a knife-wielding man who killed two pedestrians on London Bridge.
The attacker, said to be a recently-released terrorist prisoner believed to be wearing a fake suicide vest and a tracking tag, was taken down by the tusk-wielding hero and a man with a fire extinguisher before police shot him dead.
Sources have told Sky News the suspect in the London Bridge attack was a recently-released terrorist prisoner believed to have been wearing a tag
4,034 people are talking about this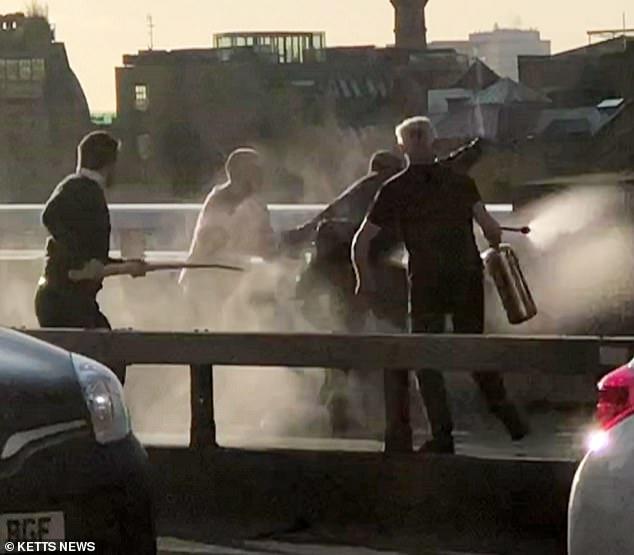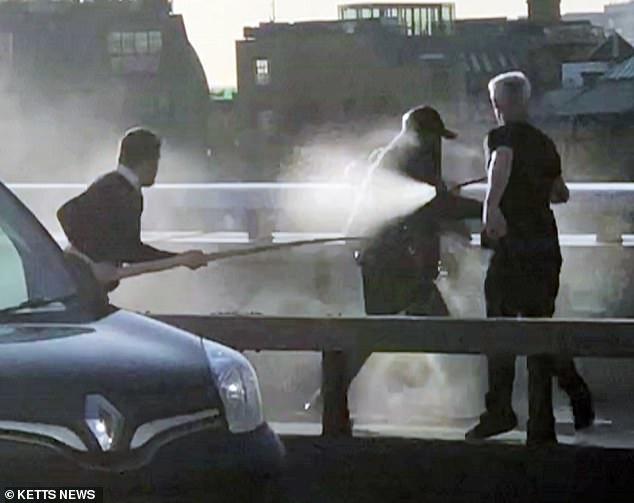 "A guy who was with us at Fishmongers Hall took a 5′ narwhale [sic] tusk from the wall and went out to confront the attacker," tweeted Amy Coop.
A guy who was with us at Fishmongers Hall took a 5' narwhale tusk from the wall and went out to confront the attacker. You can see him standing over the man (with what looks like a white pole) in the video. We were trying to help victims inside but that man's a hero #LondonBridge
7,723 people are talking about this
25 people are talking about this
There it is. Unbelievable.
723 people are talking about this
872 people are talking about this
After police stepped in:
See Jon Stewart's other Tweets
Terrorism attacker lay dead on #Londonbridge

Brilliant work by armed police
247 people are talking about this
Glad you're okay. Also, this is legit the most bad ass thing I've ever heard.
See Tom Strachan's other Tweets
The Fed's Answer To The Ghastly Monster Of Its Own Creation
Authored by MN Gordon via EconomicPrism.com,
The launch angle of the U.S. stock market over the past decade has been steep and relentless.  The S&P 500, after bottoming out at 666 on March 6, 2009, has rocketed up over 370 percent.  New highs continue to be reached practically every day.
Over this stretch, many investors have been conditioned to believe the stock market only goes up.  That blindly pumping money into an S&P 500 ETF is the key to investment riches.  In good time, this conditioning will be recalibrated with a rude awakening.  You can count on it.
In the interim, the bull market may continue a bit longer…or it may not.  But, to be clear, after a 370 percent run-up, buying the S&P 500 represents a speculation on price.  A gamble that the launch angle furthers its steep trajectory.  Here's why…
Over the past decade, the U.S. economy, as measured by nominal gross domestic product (GDP), has increased about 50 percent.  This plots a GDP launch angle that is underwhelming when compared to the S&P 500.  Corporate earnings have fallen far short of share prices.
Hence, the bull market in stocks is not a function of a booming economy.  Rather, it's a function of Fed madness.  And its existence becomes ever more perilous with each passing day.
Central planners at the Fed – like other major central banks – have taken monetary policy to a state of madness.  Zero interest rate policy, negative interest rate policy, quantitative easing, operation twist, quantitative tightening, reserve management, repo market intervention, not-QE, mass-asset purchases, and more.
These schemes have fostered massive growth in public and private debt with nothing but lackluster economic growth to show.  What's more, these schemes have produced massive asset bubbles that have skyrocketed wealth inequality and inflamed countless variants of new populism.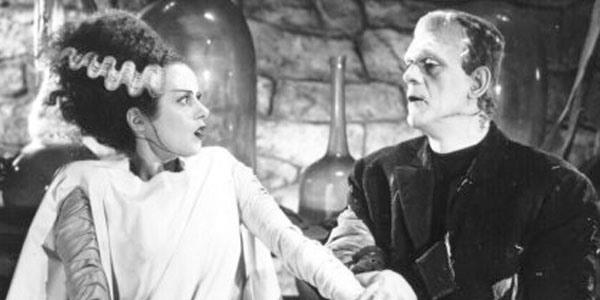 Yet the clever fellows at the Fed are blind to the fact that they're most responsible for fabricating this monster.  And now they want to rectify the ghastly deformities of their creation…
Higher Calling
Earlier this week, for example, Minneapolis Fed President Neel Kashkari remarked that:
"Monetary policy can play the kind of redistributing role once thought to be the preserve of elected officials." 
How exactly Mickey Mousing with credit markets could attain this objective is unclear.  But, like yield curve control (YCC), Kashkari wants to give it a go.  These sorts of amorphous meddling operations is how he answers his higher calling.
You see, Kashkari's a man with crazy eyes.  But he's also a man with even crazier ideas.  He's an extreme economic interventionist – and a crackpot.  Though he wears his burdens on his sleeve.
If you recall, as federal bailout chief, Kashkari functioned as the highly visible hand of the market.  When the sky was falling in early-2009, he awoke each morning, put on his pants one leg at a time, drank his coffee, and rapidly funneled Treasury Secretary Hank Paulson's $700 billion of TARP funds to the government's preferred financial institutions.
Incidentally, the experience had an ill effect on Kaskkari's mental health.  Soon after, he became a hermit, took to a cabin in the Sierra Nevada Mountains – near Donner Pass – and pursued his other life's purpose of chopping wood.  We thought we'd seen the last of him.
But sadly, it's impossible for true believers to amiably exit the trappings of public life for good.  After a failed California gubernatorial campaign in 2014, losing to retread Governor Jerry Moonbeam Brown, Kashkari resurfaced as Minneapolis Fed President in 2016.
We suppose this appointed position was his reward for the abuse heaped upon him from grandstanding Representatives – absolute losers like Barney Frank and Maxine Waters – while handing out vast quantities of taxpayer dollars to Wall Street banks.  Of course, for real public servants like Kashkari, appointed positions are the crème de la crème.
Strangely, lightning strikes twice for this guy.  Next year, roughly a month from today, Kashkari will be a voting member of the Federal Open Market Committee.  For the second time in 11 years, destiny will place him at the precise location where he can exact maximum destruction upon financial markets during a colossal crisis.
The Fed's Answer to the Ghastly Monster of its Creation
As the economy stalls out in 2020, U.S. deficits are going to jump to over $2 trillion a year – and will stay there.  So, too, the national debt will run up towards $40 trillion over the next decade.  The Fed, through YCC or some other wild scheme, will take on the dirty deed of monetizing this debt.  They'll create money from nothing and loan it to the Treasury.
Then, if Kashkari has his way, the Treasury will send out checks backed by the Fed's funny money to William Jennings Bryan's "struggling masses."  All the while, the Fed will be oblivious to the fact that these are the same people who've been hollowed out by the Fed's own policies of wealth inequality.  This is their solution to the ghastly monster of their making.
Still, the Fed and Kashkari are only the source of but some of the crazy ideas being burped about.  Moreover, an election year always provides a startling preview of the madness coming to Washington – regardless of who wins.  The styling may be different.  But the results are the same: bigger government, bigger deficits, and greater government control and encroachments upon individual freedom and liberty.
Right now, Presidential candidates are tripping over themselves to see who can make greater and crazier promises to coat the landscape in gravy for voters to sup off of.  You know what we're talking about…
Economic patriotism.  Universal basic income.  Modern monetary theory.  Trade wars.  Green new deal.  Quantitative easing for the people.  Generous spending packages.  Free school.  Free drugs.  Canceling debt.  Wealth taxes.  Taxes on unrealized capital gains.  Outright currency destruction.  And much, much more.
The planners and schemers are queuing up these ridiculous plans for just the right moment.  That is, when the economy slows, credit market's freeze, the stock market crashes, the sky falls, and all hell breaks loose.  Like TARP, or the Patriot Act, they'll roll them out at the precise moment of maximum panic.
Alas, the monster will rampage in wild and unexpected ways.
NK Threatens 'Imbecile' Shinzo Abe With "Real Ballistic Missile" Over Japan
Amid stalled talks with the US we have the dangerous Thanksgiving specter of multiple North Korea ICBM launches in the past month — or were they?
Pyongyang has lashed out at Japanese Prime Minister Shinzo Abe, calling him a "political dwarf" for 'misidentifying' missiles used in the latest tests. In the fourth known recent test of a new "multiple launch rocket system," two short-range projectiles were fired into waters off NK's east coast on Thursday. It's sparked an intense debate over the nature of the missiles, and whether they were banned ballistic missiles under United Nations Security Council resolutions, which would constitute a threat to the region and the world.
On Saturday a North Korean Foreign Ministry official called Abe "the most stupid person ever known in history" after the Japanese leader publicly characterized the latest rocket test as a likely ballistic missile launch.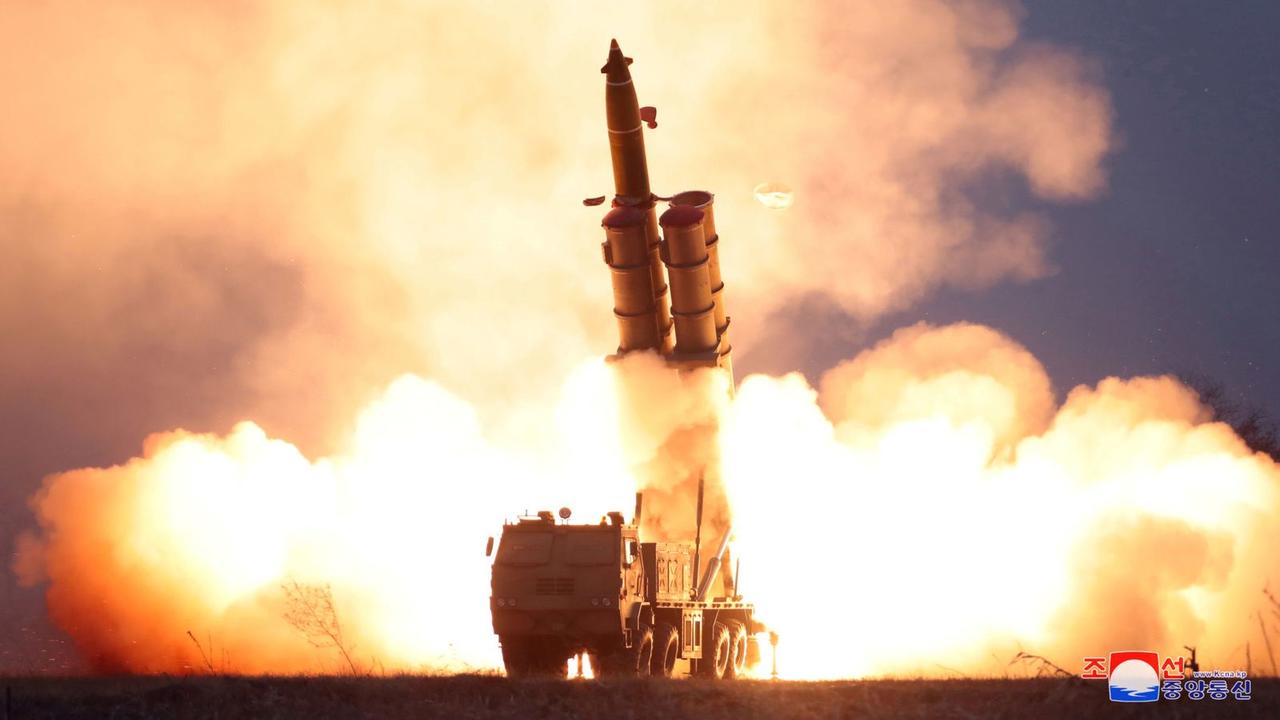 "It can be said that Abe is the only one idiot in the world and the most stupid man ever known in history as he fails to distinguish a missile from multiple launch rocket system while seeing the photo-accompanied report," NK's Foreign Ministry's Department of Japanese Affairs said on the North's official Korean Central News Agency channel.
All of this has led an enraged Pyongyang to issue a more direct threat of "a real ballistic missile" which concluded the fiery and bizarre "political dwarf" comments:
"Abe may see what a real ballistic missile is in the not distant future and under his nose," the statement said.
And followed with, "Abe is none other than a perfect imbecile and a political dwarf without parallel in the world."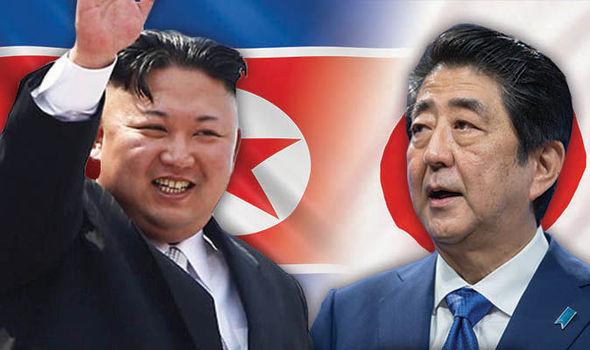 Of Thursday's launch, Prime Minister Shinzo Abe told reporters that the missiles didn't enter Japan's airspace or "exclusive economic zone" at sea. The incident followed a series of short-range missile tests by North Korea in late October, which landed near Japan.
According to South Korea's Joint Chiefs of Staff, the projectiles launched days ago flew about 380km (235 miles) at a maximum altitude of 97km (60 miles), leading to debate over their nature and classification in among western analysts as well.
"Some experts said the distance and trajectory of the projectiles showed they were virtually missiles or missile-classed weapons," Sky News noted.
The South Korean army further assessed they were "presumed to be fired from a super-large caliber multiple rocket launcher," according to an official statement .
Though the White House has in recent months downplayed the tests, Pyongyang's new threat to launch "a real ballistic missile" over Japan is sure to provoke a reaction from Washington, also given that if confirmed to be a ballistic missile test, it would mark the 13th since May of this year.